What It Take To Become A LEGEND?
At Paul Bunyan Plumbing And Drains, we are here to build a long-term relationship with each of our customers and the communities we serve. We believe that providing the best workmanship in the industry is only part of what it takes to become a LEGEND. We also strive to provide the highest level of customer service possible and be equally committed to the communities we have the privilege of serving. Only through dedicated stewardship can we make a difference in the lives of our customers, the community, and our team of exceptional employees.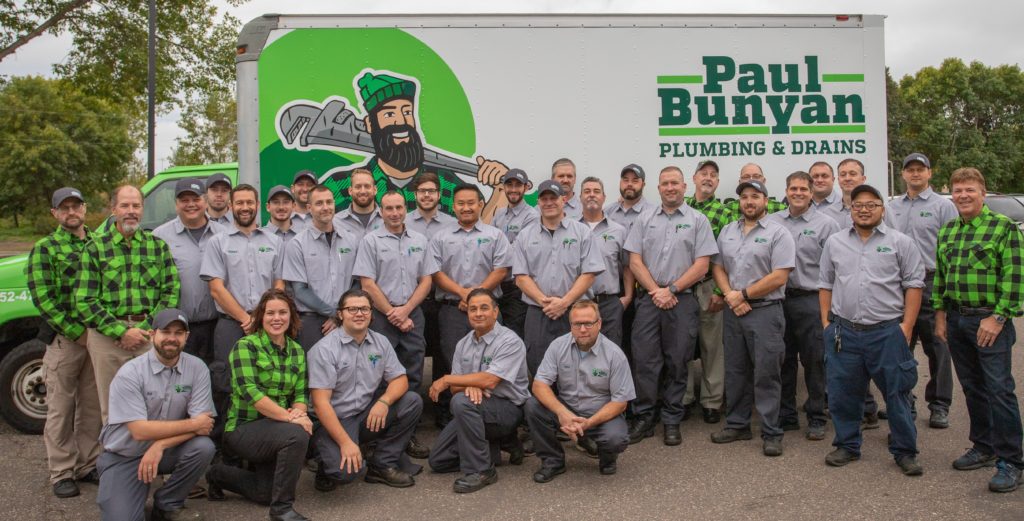 Quality Workmanship
Our Paul Bunyan Plumbing And Drain team members have invested years in their education, training, and hands-on work experience. Earning their plumbing license is a milestone that takes dedication and a massive amount of hard work. But all of those tasks show the kind of commitment we want from our employees. We need to know that we can dispatch an employee to the home of one of our customers with confidence. There will be no surprises and nothing that our team of experts cannot handle in the most professional and timely manner.
LEGENDARY Customer Service
At Paul Bunyan, we know that our plumbers have an exceptional understanding of all aspects of the plumbing industry. But we are still committed to continuing education on current plumbing processes and techniques as well as customer service. To be a LEGEND, our crew members have committed to
Look
Engage
Gather
Educate
Nail It
Deliver
at each home that they visit. Our commitment to excellence carries over from our work to our level of customer service for each and every customer. From arriving on time and prepared to address the issue at hand to showing the same respect for your home that we would a member of our own family.
Communication Is Essential
Our team invests countless hours in communicating with our customers. But it all starts with being good listeners. We are focused on listening to the concerns and issues that our customer is experiencing. Then our focus turns to determine what is creating the problem and the solutions that we can provide to our customers. And the critical element here is offering more than one solution. We want to deliver options that cover all price ranges and meet the various needs of each customer. Our job is to let each homeowner select the solution that is tailored to meet their needs. And once that choice is made, we provide the service that best suits our valued customer.
Community Stewardship
We are all sharing the same community. As such, the team at Paul Bunyan must take an active role in community events. Working in the parks and at lakes, adopting drains, and supporting local charities and events with our neighbors is part of how we say thank you to the community that allows our business to thrive.
To learn more about becoming a LEGEND, contact Paul Bunyan Plumbing And Drains at 612-340-1444.